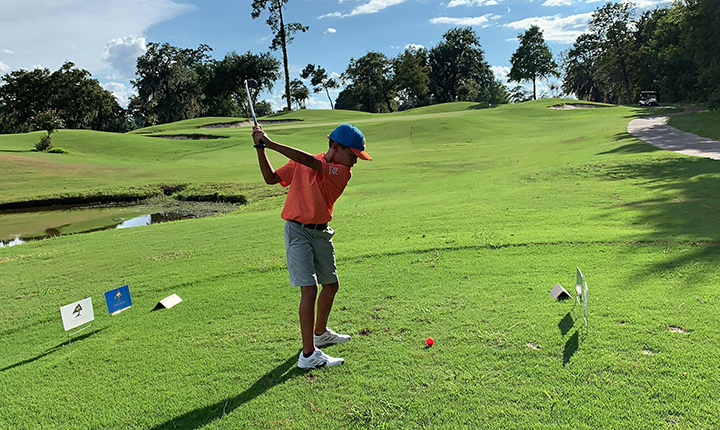 Date: Summer Camps 2023
June 5 - June 9
July 10 - July 14
July 31 - August 4
---
Full Day Elite Level Training Camps - $350 (12+ years of age) - 9am - 4pm
Designed for Middle and High School Collegiate aspiring golfers.
Video Swing Analysis
Flight Scope ball flight data
On Course instruction each day
Putting, Chipping, Pitching, and Bunker Instruction.
Games and Drills
Pack a lunch, water, drinks and snacks.
Half Day Camps - $175 (7+ years of age) - 9am - 12pm
No lunch is included. Please remember to bring a water bottle to stay hydrated.
Games and Drills.
Putting, Chipping, Pitching, and Bunker Instruction.
Student to Coach Ratio will be 4:1
Get out of the house and do something fun!
Do you have a child or teenager at home that wants to engage in an exciting and fun new adventure this summer rather than sitting inside playing video games? Cypresswood has a solution! Sign them up for a Cypresswood Junior Camp and they'll learn an awesome sport that they can play for the rest of their life!
What if my kid has never played golf?
That's exactly why we created our Junior Academy and Summer Camps! Cypresswood is dedicated to creating the best instruction experience for families and also offers the Houston area golf lessons from PGA professionals.
Our objective with The Cypresswood Summer Camps and Houston Junior Golf Academy is to teach juniors the fundamentals of golf from the short game to the full swing. Our coaches use games and fun contests throughout each camp to make learning fun! And, students are put into groups based on their age and skill levels to make it fair and fun. Students learn quickly and have fun while they do!

Do You Know About our Junior Golf Academy?
Cypresswood Golf Club is dedicated to fostering junior golf in our community. With this in mind we have created the Junior Golf Academy, which gives kids the opportunity to practice, play, and learn a lifetime sport, with valuable life lessons, from PGA professionals. Our Houston Junior Golf Academy was designed for kids ages 6 to 12 and is perfect for complete beginners or intermediate players.
Monthly Fee: $99.99 for kids 6 - 12 years of age
Playing Privileges on our Cypress Course: After 3:00 pm
Weekly Individual 30 Minute Golf Lessons
Saturday Noon Clinics
Range Balls: Unlimited
Unlimited range is based on following proper golf etiquette. Those members who abuse the rules will be subject to a suspension or loss of their privileges.
Download our Parental Waiver Form:

parental-waiver-form.pdf
Get in touch
For more information on how to register for one of our upcoming camps, please contact our Director of Better Golf Tirrel Baymon at (281) 821-6300.
Photo Gallery
Please scroll down for some great photos from this year's Junior Golf Academy in Houston!